More Details
#7605
Invigorating notes of tart lemon, orange and lemongrass mingle with notes of fresh Italian verbena. White florals and the delicate earthiness of cedarwood round out this bright and complex citrus experience.
Our Bath & Body Gift Collection is a grouping of our Bath & Shower Wash with our Body Moisturizer and provides the perfect gift for that special someone to try pairings of our bath products. You may select from one of the fragrances below, or contact us to combine the ideal duo. Mix and match to layer our fragrances on the body.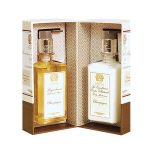 More Details
#7402
Champagne - Inspired by the unique spirit and style of truly exceptional champagne, this holiday fragrance is vibrant, fresh and ravishing. Sparkly top notes of satsuma citrus balance beautifully with subtle floral notes of muguet. Sensuous apricot, nectarine and passionfruit complement the sweetness of sugared black currant. Mellow accents of sweet vanilla ground this incredibly fresh, effervescent scent.
More Details
# 7681
Lubin Black Jade was created originally for Marie Antoinette. It has notes of galbanum, bergamot, cardamom, rose, jasmine, incense, cinnamon, Indian sandalwood, patchouli, vanilla, tonka bean and amber.
A black jade bottle held the last remaining scents of a secret garden. The discovery of its formula, copied by an indiscreet apprentice, revealed its mysteries. It belonged to a queen in the Trianon rose gardens, far from the splendors of the Court, before the turmoil of history was unleashed. Entrusted to a noblewoman and very dear friend, it has come down to us through the ages to be reborn today.
More Details
#7682
In 1955, a star captivated the crowds: appearing in films by Alfred Hitchcock and John Ford, playing alongside James Stewart and Cary Grant, Grace Kelly embodied the very elegance of America. Her mysterious charm even captured the heart of a Prince. It was in honour of her extraordinary beauty that Henri Giboulet created a perfume for Lubin which marked the decade, a very chic perfume, sparkling and fresh, evoking the cocktail in fashion that year in the 'American bars' of Paris, Gin Fizz.
The notes for Gin Fizz include bergamot, lemon, mandarin, juniper berry, iris, galbanum, orange blossom, rose absolute, jasmine, lily, benzoin, vetiver, oak moss and white musk.
Updating...